Meet Transform Fitness Sponsored Athletes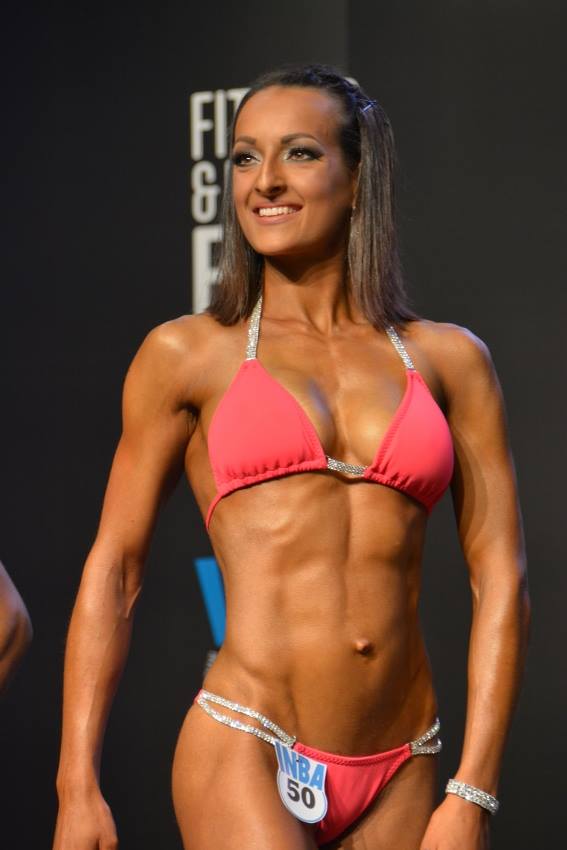 Lisa Licciardi – Mother of Two, Occupational Therapist, Fitness Model and Competitor, Healthy Living Advocate.
Lisa's Journey
I began training at Transform Fitness (TFF) in July 2014, 5 months after giving birth to my second child. From the moment I stepped foot in the studio, I knew I was going to succeed in achieving my goals and dreams. Little did I realise exactly what they would be at this point, but the unconditional support and guidance that the TFF team provided instantaneously made me feel that anything was possible.
I began training with two FIRE sessions per week in the 6:1 format. After reigniting my love for focused weight training and conditioning, I increased to three sessions. Surrounding myself with motivation daily, including fitness pictures and quotes, I continued to develop aesthetic, psychological and physical goals from one assessment to the next. Each day, looking to my sources of motivation to continue to reinforce the reasons why I wanted to succeed at my goals and that the person responsible for doing this was me.
I have received nothing but exceptional support and guidance from the trainers at TFF in achieving my goals. When I realised that my dream was to compete as a Fitness Model, I became more determined than ever. My training became even more tailored, including additional weights programming, cardio and specific nutritional guidance and implementation. The holistic approach from the TFF team has been integral to my achievements to date. My competition results are a further testimony to this.
#1 Training Tip
Be consistent – every time you enter the gym, be prepared to work hard and push the limits. Attitude is everything.
#1 Nutrition Tip
Carbohydrates are not the enemy! – learning how and when to fuel your body correctly is key to success both in and out of the gym.
Favourite Cheat Meal
Home-made gluten-free pizza & banana choc-chip ice-cream with nuts…I love food and I love to cook, so anything made at home in the kitchen makes me happy! If I was to eat out, I love clean, tasty dishes such as Lebanese and Italian cuisine.
Favourite Exercise
I love training all areas of my body so it's hard to choose! Chin ups has to be one of my favourites as this is an area I have made great gains in.
Personal bests to date include 75kg barbell split squats, 22.5kg weighted dips, 50kg barbell bench press, 27.5kg dumbell walking lunges, 22.5kg dumbell incline press, 55kg barbell bent row and 2.5kg weighted chin ups.
Other Things About Lisa
Lisa is an Occupational Therapist and Mother of Two young children.
Her past sporting experiences include gymnastics and dance.
She trained at the Victorian Institute of Sport as a gymnast during her childhood and studied all styles of dance, including jazz, tap, classical ballet, hip hop and contemporary. She has danced in a hip hop crew and traveled far and wide to compete in different arenas for various sports. Stage performance is a huge passion of hers!
She loves creating clean, wholesome and healthy dishes in the kitchen for her family to enjoy.
She also loves coffee and music (anything with a great beat that makes her want to dance)
Lisa's Advice
The take away message to me is now very clear. You can have the best intentions and dreams in the world, but without the right support and guidance to nurture these things, success seems out of reach. The team at Transform Fitness have that point of difference, helping clients achieve their dreams on a daily basis through their holistic and client-centred approach. So if you, like me, have big dreams to achieve, no matter what they may be, be sure to speak to the trainers at TFF. Chances are, with their advice, you will achieve far beyond what your mind can even conceive right now.
Lisa's Achievements
INBA Southern Cross Championships (April 2015) Ms Fitness Model 30+ – Champion, 1st Place
INBA Southern Cross Championships (April 2015) Ms Fitness Model Momma – 2nd Place
INBA Novice Rising Star & Rookie of the Year Competition (March 2015) Ms Fitness Model Momma – 3rd Place
INBA Southern Cross Championships (April 2015) Ms Fitness Model Novice – 5th Place
INBA Novice Rising Star & Rookie of the Year Competition (March 2015) Ms Fitness Model Novice – 6th Place
INBA Novice Rising Star & Rookie of the Year Competition (March 2015) Ms Fitness Model Open – 6th Place
– Qualifier for Australian Titles in October and Natural Olympia in Las Vegas in November 2015
– FILA Australia Sponsored Athlete
Check out Lisa's Facebook and Instagram page by clicking on the links below